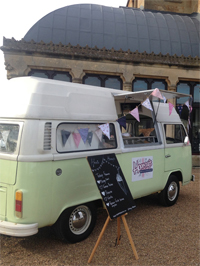 Ice as nice
Q. I'm looking for a fun alternative to the dessert for my spring wedding – ideally I'd like something that would keep all our guests happy. What would you suggest?
A. Sara and Sasha Young says: Hennie, our super cute vintage VW ice cream van, would be perfect to attend your reception. Hooray's will create a fabulous selection of award-winning, artisan gelato ice cream and sorbets, for your special day too!

You can spoil your guests with your personal section of yummy flavours, or we can even create a bespoke flavour exclusively from the favourite flavours of you and your fiancé. If you have guests who require gluten-free, diary-free, or vegan options, we can also offer you a range of free-from flavours too.

Served in cups, cones or as sundaes, with a fun sprinkles table, it will be a dessert that will keep all your guests happy.