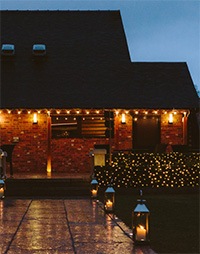 Total washout
Q. My husband-to-be and I are planning an al fresco wedding in August. With the British weather being so unpredictable should we have a contingency plan in place should there be a down pour?
A. Emma Peak says: It's always best to ensure you choose a venue that can offer an inside alternative should the weather not be on your side. Due to the British climate most venues tend to offer this and at Moddershall Oaks we make this one of our top priorities. We always have our ceremony room inside prepared for any eventuality. Even on the sunniest summer's day, the indoor ceremony will be ready to go should the weather decide to change its mind.

We've also designed our indoor space to be full of natural light, so that even if the weather pushes you indoors you'll still enjoy your day in a lovely bright room.
Emma Peak
www.moddershalloaks.com