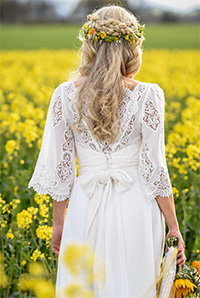 Go your own way
Q. I'm looking to have a bespoke gown made for my nuptials. Are there limitations on what I can ask for and how long would the process take?
A. Jennifer Bone says: At My little Wedding Shop, we work with you to transform the image in your head into a beautiful outfit that works for you on your big day.

The design process for a bespoke gown is fun and can really open your mind up to the possibilities. Once you've chosen the silhouette and overall style that you'd like, then together we start to explore fabric options, lace choices and personal embellishments that make a design truly yours.

We have books of lace designs, a range of fabrics in different weights and shades and our own in-house collections to give lots of inspiration.

During the design phase, I'll sketch up your idea with the different options we've shortlisted and provide you with a quote, and I'm happy to keep updating your design until we have it just right!

There are no limitations on what you can ask for, the key is ensuring the final product is not only beautiful but comfortable, wearable and within your budget.

The creation of your gown includes a minimum of three private fittings. In each appointment you'll see your dress progress until your final fitting when you'll get to try your gown on with your chosen accessories and see your full bridal look.

One of the lovely things about having your wedding outfit made is that if you would like to change your long sleeves to three-quarter-length sleeves then you can! Or if you decide on a different belt design, more or less embellishments or even beading, then these can be mocked up options for you to choose from in your fittings.

At the boutique my team and I usually work with brides from six months to a year, but it really does depend on your time frame. We can accommodate most brides whether you're getting married in two months or three years – all you need to do is ask.
Jennifer Bone
www.mylittleweddingshop.co.uk