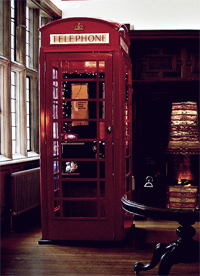 I just called to say...
Q. I like the idea of a guest book, however, we're looking for something a little different and quirky for our up-and-coming nuptials. What would you suggest?
A. Robert Giles says: Guest books, are in theory, a great idea to record the thoughts and well wishes from your family and friends on the day of your wedding. However, in reality a small book on a table isn't particularity interactive and can easily be overlooked. Too often when a guest book is thrust in front of your loved ones they will defer back to writing a generic, congratulatory message, which is a shame as your wedding is a perfect time to collect personal memories from those that mean the most to you.

I'd suggest considering something new, which will capture the attention and interest of your nearest and dearest. The Voice Messaging Company offer a service where your invitees can leave a voice message in a replica of the iconic British red telephone box.

Not only will it act as a wow-factor focal point, the privacy of a booth will leave your guests feeling more inclined to leave you heartfelt messages. And as the day progresses and your guests become merrier you'll hear plenty of advice, tales about you and your partner from yester-year; and when it's kicking out time, someone will try and use it to order a taxi. At the end of your wedding we save all the messages onto a vintage telephone. It's a physical keepsake from your big day and whenever you want to reminisce, simply pick up the handset and listen.