Ask the experts
Here is a selection of Q&As from Your West Midlands Wedding magazine. If you would like your question answered by our experts, please email it to editor@yourwestmidlands.wedding.
To view more Q&A's on a different topic, please select one from the list below.
Hot topic: Keep calm and marry on
Regional experts answer questions on summer nuptials
---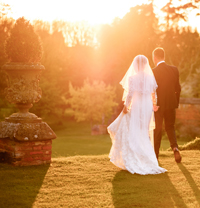 Say cheese...
Q. My fiancé and I are quiet camera shy – how can we relax during our photographs on the big day?
A. Clive Blair says: It's perfectly normal to get nervous when being photographed so I recommend two things. First have a pre-wedding shoot with your photographer, that way you'll get used to being in front of the camera. Then come your wedding day, you should feel even more at ease having had the little rehearsal shoot. Secondly, choose the photographic style of your supplier carefully. If you'd rather not pose for loads of group photos, choose a natural, documentary-style. Usually they'll still be willing to get the essential posed family groups for you, but they'll mainly blend into the background to capture all the natural, unguarded moments when everyone is more relaxed away from the obvious glare of the camera.
---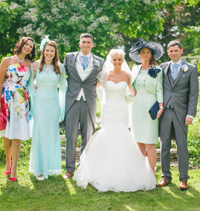 Breaking tradition
Q. My parents are quite traditional and hoping for lots of group shots on the day. My beau and I, on the other hand, want mostly natural shots – how can we compromise without it affecting our wedding album?
A. Che Birch-Hayes says: This is a question I get asked a lot. I always say we can easily do both – they can be fun, you just need to plan a little time to make room for them and just keep things simple. Instead of having endless variations of what is essentially the same image, just combine, if you have photos with siblings and their partners just put all siblings and all partners in the same photo with the bride and groom. Also, if you stick to a list of no more than 10 to 15 groups and focus on who you believe are really important this usually works best. As long as you assign ushers or confident people to gather everyone together I find these can normally be done in around 30-minutes or less and once completed, this gives you more time to enjoy your cocktail hour or arrival drinks!
---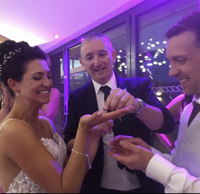 Could it be magic
Q. Because we're planning an al fresco drinks reception for our summer wedding, we're looking for a suitable entertainment supplier who can keep guests of all ages happy. What would you suggest?
A. Owen Strickland says: A close-up magician would be a perfect fit for drinks receptions.

They would walk round the guests performing to small groups, which is a great ice-breaker for the two families, many of whom will not have met previously. The all-important photographs can take some time, and a magician will stop guests getting restless or bored before their meal.

A good professional, who performs at a lot of weddings, will have no problem involving all age groups from toddlers up to adults. I have some special tricks on me especially for children, and make sure to include them at every event. I've often found that some of the best photos that the official photographer capture, involves the reaction on a child's face as a trick happens. A good magician can also perform tricks that make the child the 'star' which always goes down well.

Magic is the perfect entertainment to accompany any wedding, as it is so inclusive of all the guests who are present to share in the wonderful day. It provides fun, laughter and some amazing reaction photos that will show what a great time the guests had at that wedding.
---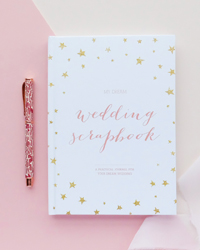 The perfect plan
Q. I'm on the hunt for a stylish, simple and portable wedding planner, but can't find anything which isn't bulky – help!
A. Mara Lagonigro says: I think my range of wedding planners would be perfect for you! They are incredibly practical, with detailed wedding checklists and tips on what questions you should ask wedding suppliers. In fact, they contain more than 150 pages of worksheets to accompany you through your exciting wedding planning journey, from choosing a venue, all the way to the very important on-the-day checklist. There is room for just about everything you need to plan, including your guest list, stationery, honeymoon and seating plan, plus so much more.

These beautiful little books are perfect for jotting down all of your ideas and there's even room for you to create beautiful inspiration moodboards from magazine cutouts. They're a handy A5 size, which means that you can easily carry them with you in your handbag. They also make wonderful keepsakes to look back on in the future.
---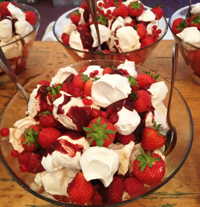 Delectable delights
Q. We're due to tie the knot at the end of August and we're looking for fabulous local food for my wedding breakfast. What would you advise?
A. Karen Kemp says: You have chosen a wonderful time of the year to marry, particularly when it comes to food that will be in season.

We're lucky enough to live and work here in The Midlands with the most amazing suppliers – allowing us to create wonderful homemade dishes using fresh and local ingredients. Here are some of our favourites for when the British sun puts in an all too rare appearance:

To start - Poached salmon terrine
Poached salmon and asparagus terrine with watercress sauce.

Main - Flattened chicken
Our local butcher takes out all the bones, we stuff herbs and garlic under the skin and serve on rustic wooden boards for your guests to carve it themselves, we supply the knives, you supply a pinny and a hat – all very sociable.

Dessert - Eton mess
British strawberries are just perfect this time of year. This combination of strawberries, double cream and crunched up homemade meringues is just divine.
---
Contact our experts...
Che Birch-Hayes
Photographer
Karen Kemp
Wedding caterer
Mara Lagonigro
Stationery
---