Ask the experts
Here is a selection of Q&As from Your West Midlands Wedding magazine. If you would like your question answered by our experts, please email it to editor@yourwestmidlands.wedding.
To view more Q&A's on a different topic, please select one from the list below.
Hot topic: Wedding woes
Regional experts answer your wedding woes
---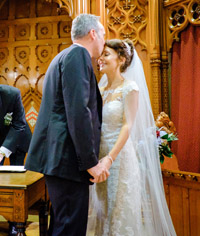 Pretty little picture
Q. My wife and I are soon to tie the knot and already can't wait to see our wedding album. How long should we expect to wait for it to be put together?
A. Clive Blair says: Every photographer will have a different timescale for album production, it'll depend on factors such as: is the album a handmade design or a standard off-the-shelf album? As you'd expect, a bespoke album will take considerably longer to produce. It's the same difference when buying a tailored, made-to-measure garment or buying off-the-peg.

Your photographer should give you the expected timescale when when you're in discussions. For some albums, it can take up to two months to put together. But as you can imagine, the wait will be worth it when you see your wedding images preserved in a timeless heirloom which can be passed on to future generations.
---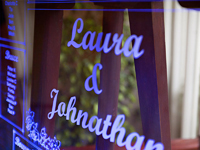 Take your seats
Q. I'm trying to find a wow-factor table plan design that can be a real focal point at the wedding. How would you suggest I could achieve this?
A. Jonathan Wilson says: If you're looking to wow your guests there's nothing better than seeing your names lit-up in lights. That's why we offer a LED-lit acrylic table plan that's always a hit and allows the bride and groom to frame it afterwards as a keepsake from their big day. Anything that's unusual normally creates a real focal point and the table plan is a good place to start as every guest at the wedding will take a close look at this.
---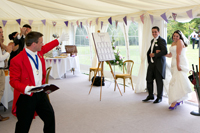 Raise a glass
Q. We are having a big wedding with more than 250 guests. We're worried that with so many loved ones present the day might turn into a bit of circus – how can we ensure the smooth running of our day?
A. Colin Bruton says: This is a popular question I hear, especially as the day gets closer and closer and reality sinks in.

So just imagine having someone independent, who is on your side on the day itself. Someone who can help plan your day beforehand, to give technical advice and ensure all your timings are realistic. Someone to manage the movement of your guests, to help the photographer, so any group shots don't take too long, someone to introduce and assist with all the speeches and someone to iron over any little problems that might occur.

Well if that sounds good to you, I suggest you find a professional toastmaster! We come in all sorts of ages, shapes, sizes, ethnic backgrounds, with some more formal than others, so shop around, chat to a few, find one you like the look and sound of and ensure they have good references.

A professional toastmaster will be one of your lowest costs, yet he or she will pull everything together so you and your guests can relax and enjoy yourselves knowing your wedding is in safe hands.
---
A plan in time
Q. I can't seem to find the time to plan my own wedding and even when I have a spare hour, just the idea of piecing my day together is too stressful for me. How can I make the process more enjoyable?
A. Lynda Smallman says: On average, a wedding can take up to 13 months to plan. With the average couple working full-time to pay for the big day, achieving your dream wedding can be stressful, but there are ways to make it easier on yourself.

I'd suggest you first create a plan of action. Produce a timeline of what you want to get done and when by. Think about what aspects of your wedding are most important to you, and prioritise these, allocating more time to spend on them. If you're still unsure on how long you should spend on certain things, get the help of a specialist.

Ask friends and family to help, too. If you're doing some parts of your wedding yourself, why not make it a social occasion? Invite friends round for drinks and nibbles and to help make invitations, centrepieces, or even to help with the table plan. Remember, if you're thinking of doing some DIY, you don't want to add extra stress onto yourself. If you're not a creative person, leave the job to someone else who has got the time and skills to do so.
---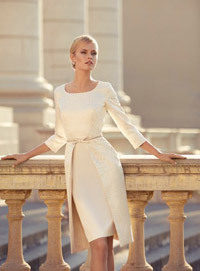 Mum's the word
Q. My mum is really struggling to find an outfit that suits her. She's looked on the high street and online – what would you suggest she does to look her best?
A. Melanie Ridgway says: Choosing an outfit for the wedding should be the most exciting shopping trip but to some ladies it seems daunting.

The UK high street and online sites obviously have many wonderful options but these can be seen in every town and city as well as the comfort of every home. For the big day, your mum should want something different, after all she is a special guest and wouldn't want to risk turning up in the same outfit as another guest – she should feel confident, stylish and her most fabulous!

Independent boutiques have selected stylish gems, as exclusive stockists of designer labels we're given designated geographical areas and we carry just a few of each style so the chance of seeing another outfit the same is rather slim.

By visiting an independent boutique like Muse Bridal, you'll receive one-to-one personal attention from staff that know their stock. You can both chat about the style of wedding and venue, colours and looks you're drawn to and any personal likes, dislikes or concerns about what suits you. Whilst browsing the rails together and talking through each item you can discuss styles, fitting and figure flattering cuts, accessories and suggestions of options you may not have even thought of. Keep an open mind as you never know which design you will fall in love with until you try it on!
---
Contact our experts...

Clive Blair
Photographer

Colin Bruton
Toastmaster
Jonathan Wilson
Stationery

Lynda Smallman
Wedding planner

Melanie Ridgway
Boutique owner
---