Ask the experts
Here is a selection of Q&As from Your West Midlands Wedding magazine. If you would like your question answered by our experts, please email it to editor@yourwestmidlands.wedding.
To view more Q&A's on a different topic, please select one from the list below.
Hot topic: Spring fling
Local experts advise on this season's questions
---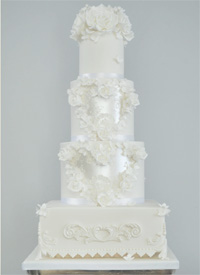 Cake expectations
Q. Our wedding colour scheme is all white and I really want a show-stopping cake that will fit into our big-day style. What would you suggest?
A. Pam Wainwright says: An all-white cake can work beautifully by incorporating different textures and finishes. You can really gain a wow-factor effect by moving away from the standard depths and shapes. Increase the height by incorporating double-depth tiers. Create a regal style by using a square cake for the base tier and add interest with scroll motifs, sugar flowers and lustre to highlight lace piped details for an element of glamour.
---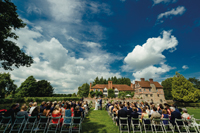 Come rain or shine
Q. My husband-to-be and I are holding our marriage blessing outside and I'm worried that any changes in weather may ruin the look of our big-day album. Is there any way to get around my weather woes?
A. Jarek Lepak says: Your wedding day is just about the most important day in your life, so naturally you want everything to run as smoothly as possible, you can plan months, even years ahead sometimes down to the very last miniscule detail, the dresses, the flowers, the catering, the church, ceremony, reception, party. However, the only thing that you can't control is the weather!

But think about what really matters, it's all about two people in love, wonderful friends, family and guests, so nothing can ruin it. In fact, if you've opted for al fresco nuptials then you must love nature and the rain is a big part of our natural environment, so embrace it and have fun. At the end of the day a photographer wants to capture people in love and we want to document every wedding exactly as it is to create long-lasting memories.

There are a few things that you can put in place as a plan B in the event of inclement weather, such as a temporary roof or opensided marquee for the ceremony or blessing to make sure that the vows are not interrupted, that way your family and friends can feel comfortable, certainly most wedding venues will have this option available and will be more than willing to discuss flexible timings for catering, just in case the weather's too bad.

From an experienced photographer's perspective, rain is not detrimental to fantastic photos for the big-day album, chat to your photographer prior to the day and maybe discuss a few locations you can use for some creative rainy day shots. A good photographer will know how to react to the changing light and be ready for any unexpected challenges. In fact, the light conditions can be used to an advantage, good editing skills can do wonders for dull grey skies and what if a beautiful rainbow appears in the background?
---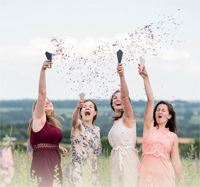 Pretty as a petal
Q. My fiancé and I are set to wed in May and would love some real floral confetti to tie in with our spring theme, what would you suggest?
A. Katie Fowles says: Spring is such an exciting time to be tying the knot. With all the natural colours outside, the perfect way to incorporate a spring theme into your confetti is to choose a mix of subtle pastels with some green and yellow for a splash of boldness.

We always recommend using smaller petals for throwing confetti, as they're light, which creates a perfect flutter as they fall delicately over you. A pastel blue, pink and ivory mix with a touch of bright yellow would look stunning for your spring confetti moment. We suggest Summer Nights and Honey'b. Have a play with colour and try to capture inspiration from the nature of spring.

Why not complement your spring theme with a scattering of larger petals down the aisle for a romantic petal path? A combination of yellow, pastel pink and green would work wonderfully.
---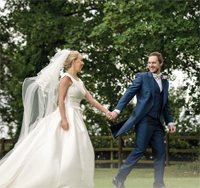 Confidence woes
Q. I'm set to tie the knot next spring and I'm worried that I won't be able to look natural in the photographs and they'll look staged. What should I do?
A. Victoria Amrose says: The key to creating natural-looking photos is fluidity and movement. Rather than standing still and posing, interact with your partner, show each other some love. Hug each other tenderly, share a kiss, laugh together, and hold hands while taking a stroll.

It's also really important to choose the right photographer for you, so make sure you meet with a few suppliers before making your final decision. You should feel comfortable and relaxed in their presence, it's their job to make you feel at ease in front of the camera, and create the very best for you.

On the day itself, allow time for your bride and groom portraits, it you feel rushed it will show through your body language.

Also, discuss your concerns with your photographer and perhaps schedule a pre-wedding shoot, so you can get to know him or her better and experience having your photo taken before the wedding. Knowledge is power, if you know what to expect on the big day, then you'll certainly feel more relaxed.
---
Contact our experts...

Jarek Lepak
Photographer

Katie Fowles
General manager

Pam Wainwright
Cake designer

Victoria Amrose
Photographer
---