Ask the experts
Here is a selection of Q&As from Your West Midlands Wedding magazine. If you would like your question answered by our experts, please email it to editor@yourwestmidlands.wedding.
To view more Q&A's on a different topic, please select one from the list below.
Hot topic: Paper chains
Our experts answer all your questions about wedding stationery
---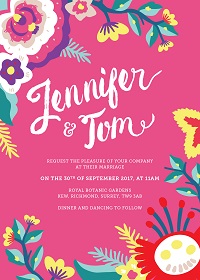 Glitter girls
Q. I've just started planning my wedding – are there any new stationery trends that I can use now that won't look dated in the coming months and years?
A. Mara Lagonigro says: Glitter up! Add a touch of sparkle to your invites by attaching a glitter bellyband to hold the package together or choose envelopes with a sparkly liner. It will impress your guests without being too over-the-top. You can use these for the save-the-date cards, invites and RSVPs, and then the thank you notes for after your celebration so that everything co-ordinates. Consider adding a cute glitter pencil in the package so your guests have a constant reminder of your special day.
---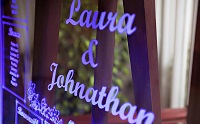 Name in lights
Q. I want something different to the traditional tableplan for my quirky day. What can you suggest?
A. Jonathan Wilson says: Why not consider a seating plan that lights up with LEDs? They're sure to provide a talking point before the wedding breakfast! They're made from light-gathering acrylic or glass and look great with the names of each guest laser-engraved onto them. They can be presented on stands or easels and make a fab keepsake or ornament for your home after your wedding.
---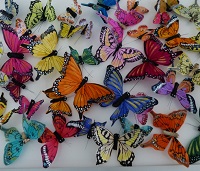 Beautiful butterflies
Q. I want to get creative for my wedding and customise my invitations with pretty details. What do you suggest?
A. Jayne Sheriff says: Couples want their wedding to reflect who they are so customising your invites is a fun way to add your personality into your day, as well as bringing together your mums and bridesmaids to help! Recent trends in wedding themes are moving away from using just one colour to, instead, mixing lots together, whether pastels, brights or even neon shades. Feather butterflies and lace trims remain some of the most popular items to decorate with. A single handmade feather butterfly added to an invite looks pretty and colourful, why not customise your table plan with them cascading down and also add them to your place names and menus?
---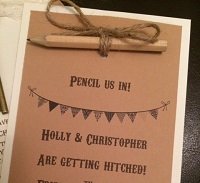 Pencil us in!
Q. I'm recently engaged and we've just set the date. Should we be sending out any save-the-date cards? Is there anything else I should be thinking of when it comes to my invites?
A. Mandy Painter says: Stationery makes a massive statement for a wedding. Gone are the days of just sending a printed invitation and providing a place card. Now couples are expecting handmade, bespoke stationery packages designed especially for them. These begin at the early stages of the planning with save-the-date invitations and 'will you be my flowergirl' (or bridesmaid) cards that give guests a glimpse of the big day ahead. For on-the-day stationery, consider matching the Order of Service to the place names, table names, personalised confetti cones, postbox, menus and guest books. You can opt for little details like pencils, keys and hearts to customise your designs that will leave a lasting (and handy!) impression on your guests. For a special momentum after the day for you and your parents, why not consider a matching keepsake box that matches your stationery to keep it all in?
---
Contact our experts...

Jayne Sheriff
Stationery
Jonathan Wilson
Stationery

Mandy Painter
Stationery

Mara Lagonigro
Stationery
---