Ask the experts
Here is a selection of Q&As from Your West Midlands Wedding magazine. If you would like your question answered by our experts, please email it to editor@yourwestmidlands.wedding.
To view more Q&A's on a different topic, please select one from the list below.
Hot topic: Chic catering
Our experts answer your questions
---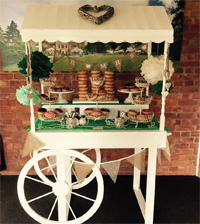 Meals on wheels
Q. I love the idea of having a sweetie cart at my wedding because they look great in photographs but all of my friends have recently had them. Can you advise me on anything that little bit different?
A. Kelly Gray says: A cheese, pâté and pork pie cart is the perfect party prop for couples looking for a savoury alternative to the traditional sweetie cart. An extensive selection of cheese, pâté and pork pies is offered, making this a quirky choice to the more traditional canapés served after the ceremony. It'll wow guests, keep them occupied while photos are being taken and make a great addition to the evening menu, often saving couples a small fortune. Alternatively why not consider hiring a Krispy Crème donut or even a Millie's Cookies cart?
---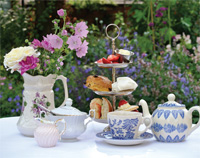 Informal dining
Q. We're having a small, intimate wedding and want our guests to feel relaxed so I don't want a formal sit-down dinner, what do you suggest?
A. Louise Martin says: Why not have an afternoon tea for your informal day? It can be hosted inside or out and guests can pick pieces from a small buffet-style table to keep it even more relaxed. You can dress your tables with vintage-style crockery and teapots and display the delights on glass cake stands and in wicker baskets placed on gingham tablecloths. This is the perfect choice for an al fresco, late summer wedding. Why not indulge in sandwiches, cheese, scones and mini chocolate and lemon tarts or even miniature pots of liquorice coulis?
---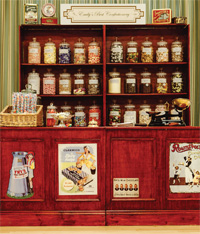 Style out your catering
Q. I want my wedding catering to also form part of my venue styling. Any ideas?
A. Ruth Phillips says: The sweetie table has been popular at weddings for quite some time now and is always a hit with guests so how about hiring an authentic, old fashioned sweet shop for your day? Complete with shelving, jars of sweets including bon bons and sherbert lemons, retro scales and stripy paper bags.

Plus, a sweetie lady wearing a vintage uniform will even serve your guests by the quarter! There's nothing quite like the memories that your favourite confectionary brings flooding back and it really will give that kid in a candy store feeling to all.

You can even link this to your favours by giving your guests a 'golden ticket' for unlimited spend at the sweet shop. This really is a great way to dress your venue as it will provide the evening entertainment, especially if you have lots of little ones there!
---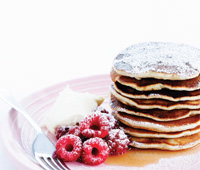 Comfort food
Q. I want to learn about some new trends in wedding catering so that we're not serving up the same old thing as others. What can you suggest?
A. Karen Kemp says: A big trend for brides now is to elevate wedding food from functional to a fun, sociable, entertaining and unforgettable experience. This doesn't have to be fancy, it can be simple, well prepared comfort food that's always a crowd pleaser. Thai noodles in takeaway boxes with chopsticks, upmarket hot dogs using high quality sausages and fish with chunky chips is proving to be very popular. For even wider appeal, try a pie and mash food station, mini steak and ale or chicken and leek pies, luxury fish or cottage pies in individual retro dishes and creamy mash potato. If this isn't mouth watering enough, ditch the chocolate fountain in favour of pots of molton chocolate for dipping, toasted crumpets and Spanish churros sprinkled with cinnamon sugar.
---
Contact our experts...

Karen Kemp
Wedding caterer

Kelly Gray
Managing director Sweet & Scrumptious Carts

Louise Martin
Caterer

Ruth Phillips
Travelling Sweet shop Owner
---