Ask the experts
Here is a selection of Q&As from Your West Midlands Wedding magazine. If you would like your question answered by our experts, please email it to editor@yourwestmidlands.wedding.
To view more Q&A's on a different topic, please select one from the list below.
Hot topic: Keeping it personal
Add personal touches to your big day with our experts' advice
---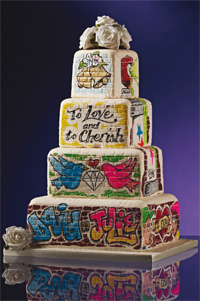 Made with love
Q. Our wedding is in seven months and we've yet to organise a cake. How can we add a personal stamp on to the design?
A. Nyree Rahman says: Start by looking at your cake maker's portfolio and be inspired by designs they have created for previous weddings. You could use these designs as a base but match the details to your own colour scheme. Another popular idea is to match the piping on the cake to that of the bride's dress. This can look stunning, particularly if you're opting to wear an intricate lace gown.

Many wedding cakes are decorated with silk or iced flowers and these can be made to match the blooms in your bouquet and centrepieces. You could also opt for fresh flowers, but these may need to be ordered from your florist. Alternatively, why not decorate the top of the cake with personalised cake toppers, a monogram of your initials or a family heirloom that means something to both of you?

You can find inspiration for your cake from almost anywhere. When you visit your cake maker for a consultation, take along magazine cuttings, flowers and fabrics and they should be able to sketch a design to suit.
---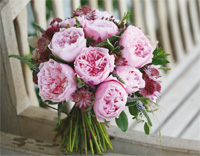 Sentimental blooms
Q. I'd love to incorporate my late grandmother's locket into my bouquet. How easy is this to do?
A. Louise Harris says: Adding such personal items to your bouquet will allow your florist to create a really individual design and most will be familiar with how to incorporate such pieces. The locket can be wired on and should be carefully placed to its best advantage so it can be seen in the photographs.

In addition to jewellery, it's also possible to add other items to your bouquet to make it even more personal, such as buttons and brooches. Explain what you would like to include when you visit your florist for a consultation and they should be able to advise on the right design to incorporate your ideas.
---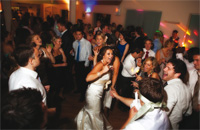 Entertainment for everyone
Q. My fiancé and I can't decide what kind of entertainment to have. While we'd love to choose something meaningful to us (we're a couple of rockers at heart and met at a gig), we're wondering if we should go for something mainstream that more of our guests are likely to enjoy. Do you have any suggestions?
A. Julie Dawson says: You're right to realise not all of your guests will have the same taste in music as you and although some may appreciate a little rock, older friends and family members probably won't enjoy a whole night of it. I would suggest booking a contemporary band that covers all types of music. That way, you can please everyone, including yourselves. I can highly recommend iPop (www.ipopband.co.uk), a professional band that covers many modern pop and rock artists. You could even ask the band to perform your favourite rock track for the first dance, in a nod to how you met.

A DJ is also great for putting together an assortment of music, including a rock session for you and your fellow rockers. The DJ of my choice would be Sounds Fishy (www.soundsfishy.co.uk) – the company has a great repertoire and can cater for everyone, if you explain your needs.
---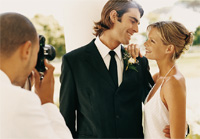 Phone a friend?
Q. A friend of ours is just starting out as a photographer and has kindly offered to take our wedding snaps. We like the idea of having someone close to us taking the pictures, but others have told us to hire a professional. What do you think?
A. Simon Thomas says: While it's lovely to have someone you feel comfortable with taking your photos, there is no substitute for experience and you may find awkward situations arise if you don't get the high quality images you wanted from the day. Photographing a wedding is a stressful experience and your friend may find that having complete responsibility of the whole day might be too much. Instead, hire a professional to cover the celebrations and ask your friend to also bring along his camera and take some informal shots throughout the day too. That way, you can involve him and he will gain more experience of covering a wedding.
---
Contact our experts...

Julie Dawson
Wedding planner

Louise Harris
Florist

Nyree Rahman
Cake Designer

Simon Thomas
Photographer
---