Ask the experts
Here is a selection of Q&As from Your West Midlands Wedding magazine. If you would like your question answered by our experts, please email it to editor@yourwestmidlands.wedding.
To view more Q&A's on a different topic, please select one from the list below.
Hot topic: Keep calm and marry on
Local photography experts advise on your winter wedding woes
---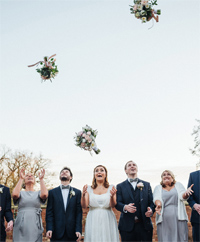 Missed opportunities
Q. We've got a large guest list and I'm concerned that we won't be able to capture all the special moments with so many people and so much going on – help!
A. Andrew Craner says: This is actually a fairly common concern, and I assure you, it's not usually a problem. For larger weddings, with more than say 150 people, I usually recommend to have a second photographer. I always use snappers with a similar style and approach to me, so the images all work well together.

By opting for two photographers, we can each capture key moments from different angles and work together to make sure all candid and spontaneous memories are covered as well. For example, after the ceremony, I'm typically working my way through a list of family group photos while the second photographer is doing candid shots of the guests having fun drinking bubbles and also detail shots of the wedding breakfast room before it fills with people. It means I can document bridal prep shots before the ceremony, whilst my second photographer does the same for the groom – it's a really powerful combination for a relatively small cost.

I also recommend that you limit the number of traditional group photos after the ceremony to no more than 10. This means you'll have time after they're done for some amazing creative portraits of the two of you and still get back to having fun with your guests before it's time to eat. I think it's really important that you don't feel rushed and I spend time with my couples discussing timings to try and achieve this!
---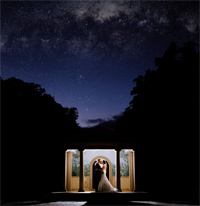 Show me the light
Q. Our December wedding is going to be held in the late afternoon and it'll be getting dark by the time our ceremony ends. How will this affect our day?
A. Clive Blair says: If your wedding ceremony can't be scheduled earlier to make the most of any natural available light, then the best alternative option would be to have your group images taken indoors. That's not something to fear, as your professional photographer would be fully prepared for this scenario. More than likely they'll bring extra lighting equipment, giving them full control to make sure you get a professional result.

The shots of you and your partner can be more varied as well, for example, if there are any fairylights or string lights illuminating the surroundings outside, they can be used in a creative way to emphasise the seasonal nature of your wedding. A popular technique at the moment is to backlight the bride and groom using a flash, for another creative effect. Or your photographer may look for any small indoor alcoves for you both to snuggle up together in, and take some natural, reportage-style pictures. Winter weddings open up many creative graphic possibilities to embrace.
---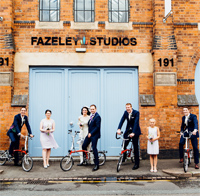 Top of the trend
Q. I want our main wedding snaps to be timeless but I'd also like to include a few fun extras. What will be on-trend in the world of wedding photography in 2018?
A. John Charlton says: The last couple of years have seen couples wanting to bring more elements into the wedding day that are unique to them. 2018 will see that trend continuing as couples look to make their day and photographs bespoke. It may include incorporating a shared passion like cycling or a sport into the photographs. Often the bride and groom have different interests which means that group photos of the groom and groomsmen, and bride with bridesmaids, can be made more fun and personal. Photo booths will continue to be a fun element to enjoy in the evening but next year we see more of them offering instant social media sharing services. It's a great way to share the festivities of the day without giving too much of it away.
---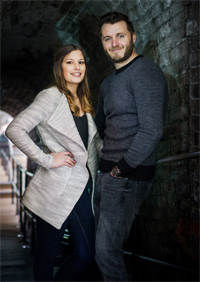 At ease newlyweds
Q. My partner suffers with anxiety and although we're only tying the knot in front of a few of our nearest and dearest, the thought of posing for our photos for the big-day album has sent him in a tizz. How do I find a photographer who'll put him at ease?
A. Martyn Greswolde says: Having your photograph taken professionally can be stressful for anyone so I can only imagine what it must be like if you have heightened anxiety.

There are a couple of suggestions I can make which should make the process much easier for you and your partner.

First off, when you're meeting your shortlist of photographers prior to booking, spend a little time just talking to them, the conversation can be about anything really but this should give you a good idea of the person behind the camera. It's essential for all couples that they get on well with their photographer, if you get on with them personally that should alleviate some of the stress.

The second and equally important suggestion is make sure you have a pre-wedding or engagement shoot with your chosen professional. Much of the stress around a shoot is the unknown. By having a pre-shoot you'll see how easy it is for a pro-photographer to create beautiful images of you both and actually how much fun this process can be – leaving you much more relaxed, as far as your pictures are concerned anyway.
---
Contact our experts...

Andrew Craner
Photographer

Clive Blair
Photographer

John Charlton
Photographer

Martyn Greswolde
Photographer
---