Ask the experts
Here is a selection of Q&As from Your West Midlands Wedding magazine. If you would like your question answered by our experts, please email it to editor@yourwestmidlands.wedding.
To view more Q&A's on a different topic, please select one from the list below.
Hot topic: Keep calm and marry on
Local experts offer stellar advice on wedding woes
---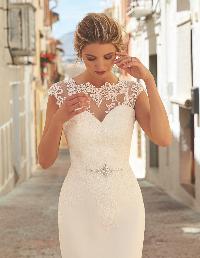 Free spirit
Q. My wife-to-be and I have set the date for our big day in August. I'm looking for a lightweight gown that will allow me to dance freely during the reception while remaining elegant. What would you suggest?
A. Caroline Clark says: An A-line gown with straps is not only light but it also allows movement for dancing. However, if you prefer a more manageable dress, opt for a column design.

A beautifully elegant dress like Katrina by Romantica has a soft lace-illusion neckline falling into a beautiful crepe skirt that skims your hips and allows you to move freely on the dancefloor. Crepe is becoming a favourite as it's lightweight yet drapes beautifully. The detachable cowl back gives a touch of timeless elegance and it can be removed during your reception to create a different look perfect for partying the night away.
---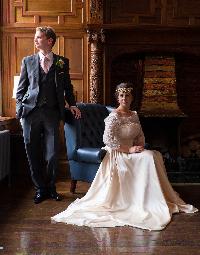 The height of style
Q. My husband-to-be is 6ft 4' and I'm a tiny 5ft in comparison. I think we're both a little worried about looking daft in our wedding photos. Are there any clever tricks we can use?
A. Clive Blair says: First of all don't stress too much about how you think you'll look to others. Your photographer's role is to capture the love and affection that will naturally be shown between you both. When you see that reflected in the images, the height difference will not be an issue. Saying that, in a few photos, to minimise the height difference, you could stand on tip-toes, if your feet are hidden under your gown, while your groom leans towards you to either kiss or cuddle you. Also, if there's a slope on the ground, you could be positioned higher up as you walk hand-in-hand with your new husband. Another trick is for your photographer to get one or both of you to sit down, but as mentioned, try to concentrate on enjoying your day and that will be the lasting memory you have as you look back on your wedding photos.
---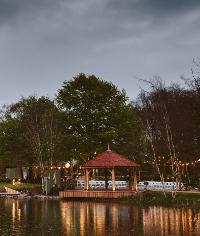 Food for thought
Q. We're a fairly laid-back couple and could think of nothing worse than sitting down to a three-course dinner with our guests – it's just not us. What are our other options when it comes to big-day catering?
A. Emma Peak says: I've found that more and more couples are opting for an alternative wedding including a more relaxed approach to dining. It's your special day so I believe it's important to have exactly what you want, whether you'd like a barbecue, street food served in an artisan van, a traditional buffet, a three-course meal or even a seven-course tasting menu. At Moddershall Oaks we're fortunate to have award-winning chefs on-site who are very flexible and will work with you to create the perfect menu for your big day.

The one thing we always recommend is having one focal course to ensure that guests have enough energy to dance all the way through the night, which can always be followed by a buffet or some kind of snacks later on. For example, you could have a lovely hog roast after your ceremony, but then in the evening having something lighter like a ploughman's platter.
---
Picture perfect
Q. My partner suffers with anxiety and although we're only tying the knot in front of a few of our nearest and dearest, the thought of him posing for our photos has sent him into a tizz. How can I find a photographer who will put him at ease?
A. Samantha Davis says: Fear not, there are plenty of ways for us professional photographers to relax an anxious bride or groom!

Firstly I, like a lot of photographers, offer an engagement shoot prior to your big day. I love these sessions because it really allows me to get a feel for the couple and the dynamics between them, but it most importantly allows them to get to know me.

This can be a great way to relax a person who is nervous as it gets them used to a camera. The photographer and the flow of a photo shoot is often eye-opening to my clients as they relax when they realise I don't want them to formally pose but encourage them to just interact with each other – this makes for the very best images.

For very anxious couples or individuals it might be an idea to choose a photographer who specialises in reportage or candid photography, keeping the posed images down to an absolute minimum.
---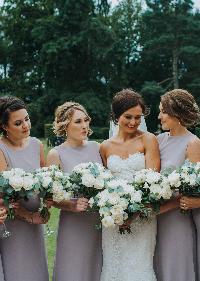 Pretty maids
Q. I'm looking for gifts for my bridesmaids; I've some adult maids as well as younger flowergirls and ideally I'd like to get them something that can be incorporated into the big day. What would you suggest?
A. Julieann Bird says: Gifting your bridesmaids an accessory is the perfect way to include them in your special day as this gives them something beautiful to wear and treasure forever. Choose designs that are a similar style to the bride as this will create harmony in your wedding photos. Pretty pendants look fabulous and earring and bracelet sets are always a popular choice. As adult and child bridesmaids come in all shapes and sizes, choose jewellery that comes in a variety of styles and lengths. Likewise, find a wedding supplier that offers the same earring designs suitable for both pierced and non-pierced ears. Flowergirls can become restless and fiddle with their accessories, so comfortable designs and age appropriate styles are the answer – soft child-sized headbands or grips look really cute and are easy to wear too.

If you're having a maid-of-honour or head bridesmaid it's a lovely gesture to acknowledge this. Opt for an additional piece of jewellery or slightly more elaborate bridesmaid's accessory for her. It's a good idea to find a supplier who also includes individual gift boxes within the price too; that way you're crossing two things off your planning list at once and saving yourself money as well.
---
Contact our experts...

Caroline Clark
Boutique owner

Clive Blair
Photographer

Emma Peak
Wedding planner

Julieann Bird
Jewellery and accessories designer

Samantha Davis
Photographer
---