Ask the experts
Here is a selection of Q&As from Your West Midlands Wedding magazine. If you would like your question answered by our experts, please email it to editor@yourwestmidlands.wedding.
To view more Q&A's on a different topic, please select one from the list below.
Hot topic: Keep calm and marry on
Regional experts answer questions on autumn nuptials
---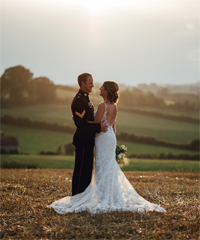 Autumn daze
Q. We're getting married in November and want our day to be as romantic as possible. What type of photographs should we request as we want timeless shots in our album?
A. Che Birch-Hayes says: If you're getting married in autumn and want some romantic photos then be aware of the light! Nothing is more romantic than a sunset! It sets earlier at this time of year, between 5pm and 6pm, and in the summer months this is usually prime time for food and speeches so perhaps try to plan in some nice intimate couple shots during this time. This can also mean being a little flexible as the weather can be random at best in November, so allow yourself to be spontaneous and have romantic photos at any point in the day. A good photographer will always be looking at the light and if all else fails your snapper can use a flash and get some awesome photos of you at night come rain or shine.
---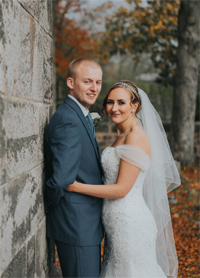 Picture perfect
Q. My fiancé and I are due to wed in the autumn and want to make the most of outdoor shots where possible. How can we show off the gorgeous season in our photography?
A. Craig Clewlow says: Some may say that getting married during the autumn months will restrict your possibilities for outdoor photographs, but this is not the case. Although challenges may occur, so do great possibilities; the stunning colours of the autumn trees and leaves, along with the softer light from the sky will create fantastic opportunities to produce striking outdoor portraits. Also, with this season comes the higher risk of rain on your magical day, but this isn't to be feared as with this comes puddles and the opportunity for some artistic creativity capturing your gorgeous reflection, or even gathering the bridesmaids and groomsmen under umbrellas can create really quirky looking pics to treasure.

This just goes to show that there will always be fantastic photographic opportunities on your special day no matter the weather or season.
---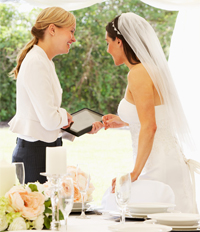 A plan in time
Q. I've spent months planning the perfect wedding, but now I'm in a panic – what if timings runs over, the transport is late or the photo booth isn't in the right place during our reception? What would you advise to ease my wedding woes?
A. Lynda Smallman says: Hiring a wedding coordinator is like hiring a fairy godmother – they're there to ensure everything runs smoothly. Firstly, a professional should check all final details with all your suppliers, down to, 'do they know where they're going? so they don't get lost and arrive late on your wedding day.

Secondly, a coordinator will meet with you, preferably at your venue, and discuss in detail all your plans so on the big day everyone will know exactly where you want the photo booth to be. They'll also advise on logistics for certain matters that you may not have thought about. For example, you may want the booth located in a particular area in the venue, which is meters away from the power socket.

Finally, weddings very rarely run on time, however, a wedding coordinator will draw up schedules for the day as a guide, and they'll be there to ensure timings are kept as close to the plan as possible. It really is a wise decision to allocate some of your budget to hiring a wedding coordinator; they can save you a lot of stress on the day to ensure that you enjoy every precious moment.
---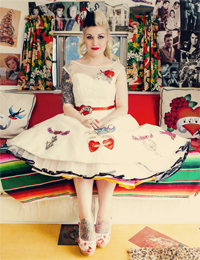 Fabulous 50's
Q. I'm looking for a cool and quirky backdrop and finishing touches to fit in with our '50s theme. What would you suggest?
A. Kate Beavis says: A '50s theme can take on many guises from rockabilly to pretty pastel prom, so the look you need may differ. If you're going for the former it's all about the red, black and white colour scheme with gold touches – think swallows, anchors and polka dots. For your bouquet choose romantic roses in a tight posy or go for something more alternative such as one made from buttons. Choose a cake to match and add rock'n'roll details such as vinyl records for table numbers.

For a more authentic look, such as the pastel theme, choose honeycomb balls in candy shades, and a cake with a vintage topper on it. Add special details for your guests such as pretty vintage hankies for their happy tears, props such as old suitcases and board games to play and drink from vintage china tea cups – why not arrive in a classic car too?

Traditional dresses would have been tight-waisted with full skirts down to the ground but the modern choice is tea-length. Team with a petticoat underneath and fabulous eye-catching shoes in a colour that matches your scheme.
---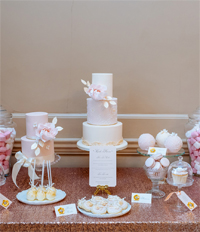 Sweet treats
Q. I'd love an elegant display at our manor house venue, which can accommodate many tastes. What would you suggest?
A. Pam Wainwright says: Why not create an elegant display with a dessert table? Make a feature of your cake table by decorating with luxe glass cake stands and fill them with macarons, cake pops, cookies and mini sweet treats. Add gorgeous glass jars and fill with marshmallows, meringue kisses and bonbons for those with a super -sweet tooth.
---
Contact our experts...

Che Birch-Hayes
Photographer

Craig Clewlow
Photography

Kate Beavis
Vintage style expert and curator of alternative wedding fairs

Lynda Smallman
Wedding planner

Pam Wainwright
Cake designer
---